Relax and unwind from the moment you step aboard and admire the ever-changing views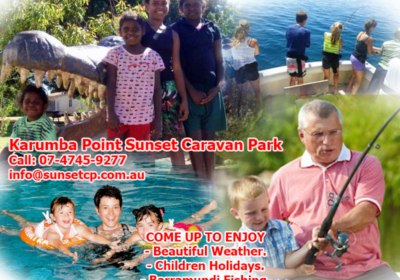 Relax and unwind from the moment you step aboard and admire the ever-changing views in comfort on a truly memorable Journey to Karumba
Take a journey through frontier country from Normanton to Croydon as you step aboard the iconic Gulflander. Also known as the 'Tin Hare', this legendary rail motor is one of the last great characters of the rail world.
Affectionately said to go from 'nowhere to nowhere', the Heritage Listed Normanton
to Croydon line was never connected to the state rail network and remains the only line in
Queensland still measured in miles. Originally built to connect the once bustling river port of Normanton with the rich goldfields of Croydon, today much of the line is still the original rail and sleepers laid between 1888 and 1891. The line was laid in a way not found anywhere else in the world. The innovative sleeper design allows seasonal flood waters to flow over the line with minimal impact.
From wetlands and grasslands to arid Savannah territory, the Gulflander travels through countryside that most people will never see. This nostalgic rail journey is the perfect way to discover an area steeped in pioneering history and heritage. Normanton was the port for the Croydon Gold Rush and is a terminus of the Normanton Railway Station which features preserved Victorian architecture. Just 30 kilometres south west of Normanton is camp 119, Burke and Wills' most northerly camp.
Croydon is a small town with a big history which started with the discovery of gold in 1885. With Barramundi fishing year round, Lake Belmore is located just four kilometres from Croydon. As the Gulflander only carries a small number of passengers, you will experience a friendly atmosphere which adds to the charm. Enjoy morning tea en route as the on board accredited Savannah Guides keep you entertained with trivia, species identification, amusing stories and colourful characters.
As a working tribute to the Gulf of Carpentaria's early pioneers, the Gulflander is a once in a lifetime experience.
Highlights
Discover Croydon's Heritage Precinct including the courthouse which dates back to 1887
From Normanton travel to Karumba and enjoy a stunning sunset cruise on the Gulf of Carpentaria Visit Karumba's Barramundi Discovery Centre or try your luck on a fishing tour
In Croydon, stop at Queensland's longest continuous running general store which began operating in 1894
Gulf Savannah
Venture deep into Gulf Savannah Country and discover where the outback meets the sea. Rugged by nature, the Gulf Savannah is home to great fishing, pioneer heritage and unique landscapes.
Learn of traditional Aboriginal life, epic journeys of explorers and drovers, and the fortunes of prospectors and bustling communities as you explore this fascinating region.
Travelling on the Gulflander, journey into Queensland's contrasting Gulf Country and gain a unique insight into a bygone era. Lush tropical rainforest, savannah plains and semi-arid spinifex ranges combine to create an ever-changing landscape. Marvel at the isolation of the Gulf's small towns and settlements as you travel along the Heritage Listed Normanton to Croydon railway line.
Experience the heritage and rugged natural beauty of the Savannah Country as you travel from Cairns to Forsayth on the Savannahlander. On this unique rail journey, spend time exploring the historic outback towns of Almaden, Mt Surprise and Forsayth at a relaxed pace. Take the opportunity to visit the breathtaking Cobbold Gorge and explore one of the world's longest and largest lava tubes at Undara. Discover the limestone caves at Chillagoe and marvel at the spectacular stalactites and stalagmites.
Established as a Gold Rush port, Normanton is the Gulf Savannah's largest town. Stop by the Victorian era Normanton Station or venture just out of town and visit Burke and Wills Camp 119 to read the story of this tragic expedition. Situated on the Gulf of Carpentaria, enjoy some of Australia's best seafood as the sun sets over the gulf at Karumba. As Australia's commercial prawning and Barramundi capital, Karumba is home to the Barramundi Discovery Centre as well as great fishing.
Travel towards the Northern Territory border and be rewarded with a stunning lush oasis set in a landscape of dry semi-arid countryside at Karumba Point Sunset Caravan Park. Spend time exploring the Karumba or discover different birds species and panoramic views of Karumba beach walking tracks.
Karumba is popular Cattle station, abundant wildlife and geological wonders combine to create a unique backdrop for an unforgettable experience.
BOOK NOW! for October, November, and December. You may also do advanced booking for January, February, and March.
Postal Address: Karumba Point Sunset Caravan Park, PO Box 61 Karumba Queensland 4891
Tel: (07) 4745 9277
Fax (07) 4745 9480
E-mail info@sunsetcp.com.au
http://www.sunsetcp.com.au
Tags: Karumba Point Sunset Caravan Park, Holidays, Sunset Caravan Park, Sunset, Caravan Park, Parks, Karumba, Karumba Point, Advanced Booking, Book Now, Travel, Tour, Travel and Tourism, Book Now, Travel and Tour, Sunset Tour, Book Tour, Fishing in Karumba, Fishing, Fishing in Qld
Tags: #Barramundi #Barra #Fish #BarraFish #BestFishing #Accommodation #Hotel #Cabins #Villas #Powered #Unpowered #Campsites #Tour #karumba #Barra #Barramundi #Fishing #BarraFishing #Sports #FishingSports